Rainforest Alliance-certifierad kakao, kaffe, te och hasselnötter
I samarbete med CERES utför BM Certification revisioner och certifieringar längs hela produktionsskedjan för kakao, kaffe, te och hasselnötter vilket möjliggör full spårbarhet av företagets ansvarsfulla inköp av produkter.
År 2020 gick UTZ och Rainforest Alliance samman och alla nuvarande certifierade företag som har genomgått revisioner enligt UTZ eller Rainforest Alliance-systemet får använda Rainforest Alliance:s varumärke. Varumärket UTZ fasas ut för befintliga certifierade kunder.
Varumärket Rainforest Alliance är ett bevis på att produkten kan spåras från slutlig produkt tillbaka till odlaren och att produkten möter alla krav för certifieringsstandarden ända fram till slutleverans. Certifikatet krävs för samtliga företag i produktionskedjan som tillverkar, handlar med eller äger produkter med en Rainforest Alliance-certifiering.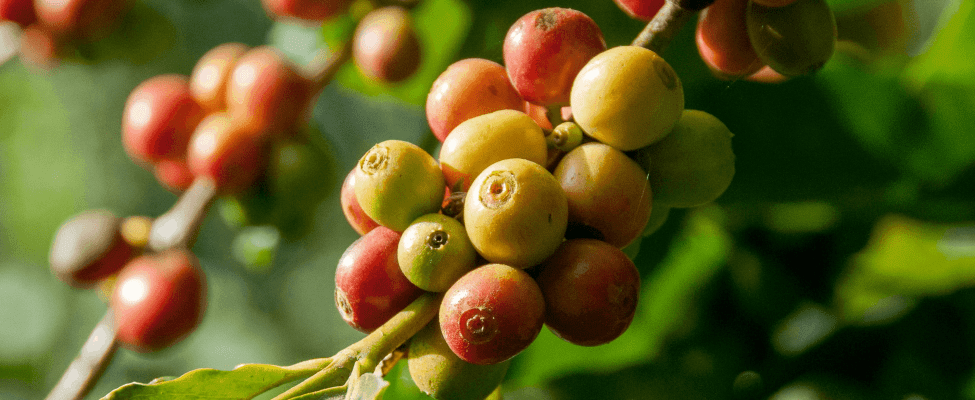 Vad är Rainforest Alliance?
Rainforest Alliance är ett program där ägarna av kakao-, kaffe- och teplantager säkerställer att verksamheten är hållbar och reducerar påverkan på miljön, att odlingsmetoderna av kakao, kaffe och te är ansvarsfulla och innovativa, och att de bryr sig om plantagearbetarnas välbefinnande. Rainforest Alliance sätter en standard för odlingar som garanterar att miljöskyddsarbete och goda odlingsmetoder upprätthålls samt garanterar säkra arbetsmiljöförhållanden och att inget barnarbete förekommer.
Varför certifiera enligt Rainforest Alliance-systemet?
Certifikatet intygar att företagets produkter kommer från ansvarsfullt skötta plantager och är producerade i enlighet med hållbara odlingsmetoder. Certifiering ger företaget rätt att använda Rainforest Alliance:s varumärke på sina produkter. Certifieringen gäller för företag som inte bara tillverkar produkten utan äger produkten genom alla faser i produktionskedjan fram till slutkonsument, exempelvis lagerlokaler, transportföretag, agenter, med flera.
Ett certifierat företag stärker sin position på marknaden, ökar vinstpotentialen, förbättrar synen på produktionen och reducerar risker. Certifiering bidrar till att möta både de lokala och de europeiska lagkraven.
När ni väljer att certifiera er kommer ni att:
Implementera hållbara verksamhetsmetoder;
Kunna förse era kunder med bevis på hållbart arbete;
Informera slutkunden om ert åtagande att produkten är framställd genom använda ansvarsfullt inköpta eller odlade råvaror;
Förbättra arbetsmiljöförhållandena för odlarna och ta hand om både deras barn och miljön;
Stärka företagets rykte;
Få ett certifikat som bekräftelse på företagets hållbarhetsarbete samt era lösningar för socialt ansvar och verksamhetsmetoder.
Certifieringssystem för produktionskedjan
Det finns totalt tre stycken ledningssystem för kakao, kaffe och te:
Identity Preserved (Identitetsbevarad) – Kakao, kaffe och te från en specifik certifierad plantage separeras från andra certifierade och ickecertifierade produkter. Genom det här systemet kan kakaons, kaffets och teets ursprung spåras tillbaka till den plantage där det härstammar från.;
Segregation – Fysisk separation av kakao, kaffe och te från ickecertifierade produkter. Tillåter blandning av olika certifierade ursprung;
Mass Balance System (Massbalanssystemet) – Tillåter att certifierat och ickecertifierat kakao, kaffe och te blandas i en kontrollerad miljö där man säkerställer att den utgående volymen av certifierade produkter aldrig överstiger den inkommande volymen av certiferade produkter.
Hur certifierar man sig?
Kontakta oss för mer information.
SIMILAR SERVICES THAT YOU MAY BE INTERESTED IN:
Vill du stänga formuläret?
Data kommer inte att sparas eller skickas.
Send us a message
Thank you! We have received your application!
We will get back to you shortly.